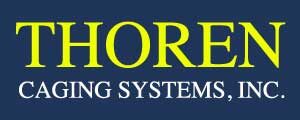 Thoren Caging Systems pioneered the molding of plastic rodent cages in 1953.
We developed the Maxi-Miser PIV System, the industries first cage level ventilated system in 1978.
The Maxi-Miser PIV System provides superior micro-environmental control at the cage level, with consistent air change rates, low velocity and non- turbulent air flow. Thoren offers the industries largest selection of high density isolation caging systems, featuring 9 mouse cages, 4 rat cages and 1 Guinea Pig cage. The Maxi-Miser racks accommodate interchangeable cage sizes with two duplex cages for pairing mice and breeding. There are also 3 multi-species cages that are interchangeable. Our modular rack design and mobil workstations provide flexibility for maximum space utilization in your facility.